The Bluebird Inn is  Open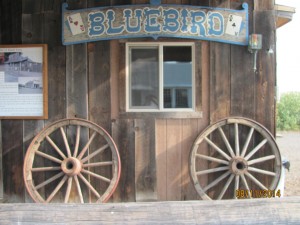 The Bluebird is the oldest operating tavern in the  state.                                                               
This building was constructed by Jacob N Jensen for C.E. Flower and Doctor Hamilton Blair for a drug store and dwelling in the spring of 1887. It became a saloon that fall. In 1903 a Brunswick pool table was purchased that remains in the Bluebird today. A barber shop was in the back of the tavern in the early years.
The east side of the building was added for living quarters in 1965. At about the same time, the unspoken policy was broken when women were finally allowed and even welcome to the tavern.
A brick hearth and chimney for wood heat was added inside and a boardwalk on the outside constructed in 1986. More changes were made in 1987 when a deck and a brick barbeque were added to the west side. In 2004 a new front porch was constructed. The wagon wheel rail was added in 2006 to separate the bar and pool table from the restaurant side.                              
There have been many owners of the Bluebird and it has operated under several different names. The Bickleton Club was used for twenty five years and was the longest used name until the current name. The present name has been used since the late 1970s.
 Operating Hours
Closed all Major Holidays
Closed Monday and Tuesday
Wednesday ———–7am to 8pm
Thursday, Friday and Saturday———10am to 8pm
Sunday———-8am to 6pm
The Bluebird Inn is always closed the entire month of December
Good food, cold drinks and hot coffee are available.