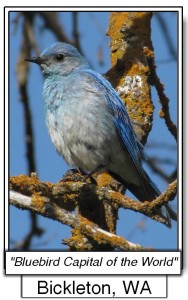 Laurence D. Whitmore
Laurence D. Whitmore of Bickleton passed away June 12, 2016 at the Toppenish Nursing Home at the age of 88. L.D. was born April 24, 1928 to Del and Fern (Churchill) Whitmore. He lived in Bickleton (Juniper Canyon) all his life. He attended school in Juniper Canyon and Bickleton. Laurence graduated in a class of 5 in 1946. He went on to marry Ada Ruth Rasmusson on Christmas Eve at the Bickleton Presbyterian Church.
He was a member of the Fraternal Order of Eagles (Sunnyside), White Creek Grange (Past Master), Alder Creek Grange, Bickleton Volunteer Fire Department, Bickleton School Board, Alder Creek Pioneer Association, and Studebaker Club. Lawrence spent his life raising kids, grandkids, wheat and cattle. His love for old cars and antiques continued all through his life and together with his wife Ada their passion lives on through the "Whoop-N-Holler Ranch Museum" in Bickleton.
Laurence is survived by his wife Ada Ruth of 68 years and their 5 children: Carolyn (Lyle) Cleveland, Jack (Tami) Whitmore, Christine Whitmore, Tom (Melinda) Whitmore, and Dave (Debbie) Whitmore. He is also survived by sisters Ethel Read of Bickleton and Betty (Don) Berger of Kittitas, He also has 8 grandchildren, and 10 great grandchildren and many nieces and nephews.
He is preceded in death by his grandson, Alex James Whitmore and sister Eileene Wilhelm Bowden.
 In lieu of flowers, donations can be made to Alder Creek Pioneer Association of Bickleton, WA. Condolences can be sent to www.valleyhillsfh.com. Valley Hills Funeral Home in Sunnyside is in care of all arrangements.
 The Carousel Museum is open for the 2016 season
10-11-12 June
Washington's Oldest Rodeo!
Alder Creek Pioneer Picnic Rodeo
http://aldercreekpioneerpicnicrodeo.weebly.com/
 Bickleton, Washington is called the Bluebird Capital of the world because of the thousands of bluebirds that spend most of the year in the area. The majority are Mountain Bluebirds with a few Western Bluebirds in or near the forest.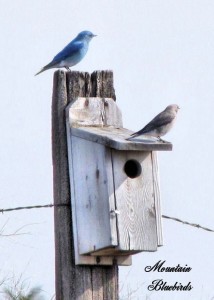 Although quite small (population 90), there are interesting events and places in or near town. Bickleton is home to the states oldest tavern, The Bluebird, and the states oldest rodeo. The next Pioneer Picnic And Rodeo will be the 105th annual. At the picnic and rodeo grounds is one of the west's oldest carousels. A 1905 Herschell-Spillman.  It is set up and used only on rodeo week-end,  which is always the second  week-end in June. It was purchased from Oaks Park in Sellwood, Oregon  in 1929 and moved to Bickleton. Just 11 miles south of town is the Whoop N Holler Ranch and Museum where there are many interesting local antiques and old    vehicles. About 17 miles south of town is 4th largest landfill in the country. Owned, by Allied Waste Industries, it provides much needed jobs and capitol for Klickitat County. The landfill gas created by the decomposing waste is used to generate over 8 megawatts of electrical power. A few miles south of town is the area's first large wind power electrical generating plant. Good food is available at the Market Street Cafe and the Bluebird Inn.